A New England Food Vision
Can New England Produce 50% of Its Food By 2060?
Yes.
Farming and fishing were once at the heart of New England. The enduring presence of dairy farms, vegetable stands, sugarhouses, working waterfronts, and fishing boats testifies to the cultural heritage that underlies our landscape and economy.
Read On
A New England Food Vision envisions New Englanders in 2060 eating more diverse and healthier foods than today, with three times as much land (15% of the region, or 6 million acres) producing food.
Read On
A New England Food Vision describes a future in which New England produces at least half of the region's food—and no one goes hungry. It looks ahead to 2060 and sees farming and fishing as important regional economic forces; soils, forests, and waterways cared for sustainably; healthy diets as a norm; and access to food valued as a basic human right.
Read On
A New England Food Vision is bold in aspiration—healthy food for all, sustainable farming and fishing amidst thriving communities; and bold in scope—a tripling of land in food production, vibrant working waterfronts, healthy ecosystems, viable food enterprises from farm and fish to fork, no one going hungry.
Read On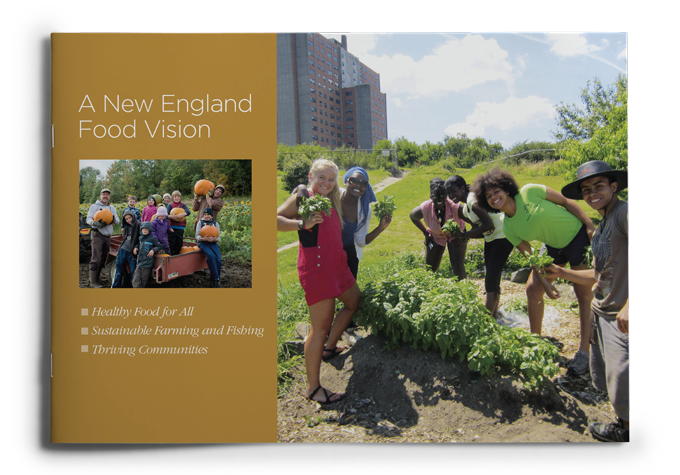 A New England Food Vision is a collaborative report that examines the history and considers the future of our region: a future in which food nourishes a social, economic, and environmental landscape that supports a high quality of life for everyone, including generations to come.
Read the Vision